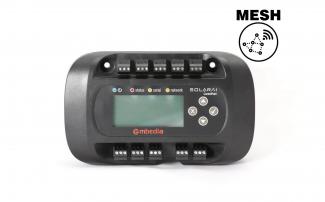 The ControlPoint is a multipurpose integration device with optional BACnet routing capabilities. 
Every ControlPoint supports up to 5 analog sensors (sun, wind, rain, etc) that my be used to provide response based control triggers for a GROUP control system or simply enhance the automatic operation of a PLUS control system.  Sensors are sold separately.
ControlPoints are available for both MSTP and MESH networks.  IP variants additionally serve as BACnet routers enabling communication between the MSTP/MESH and IP networks.  These routing features allows existing IP infrastructure to be used for Building Management System (BMS) / Building Automation System (BAS) integration as well as scaling of the control network to virtually any size.
All ControlPoint devices have an RS232 MODBUS ASCII interface and 6 programming contact closure outputs that may be used for easy integration with 3rd part Audio/Visual (AV) or BMS/BAS systems.