Roller Shades
Ideally suited for blackout/sunscreen and sheer interior and cavity applications, often found paired together to allow alternating functionality when needed.  Combined with a SolaraiTM CORE, GROUP, or PLUS control system, shades can be manually and/or automatically operated to control interior ambient natural light levels and minimize heat gain with certain reflective fabrics.
Certain fabrics and systems can be used on the exterior as well providing a range of aesthetic and functional options.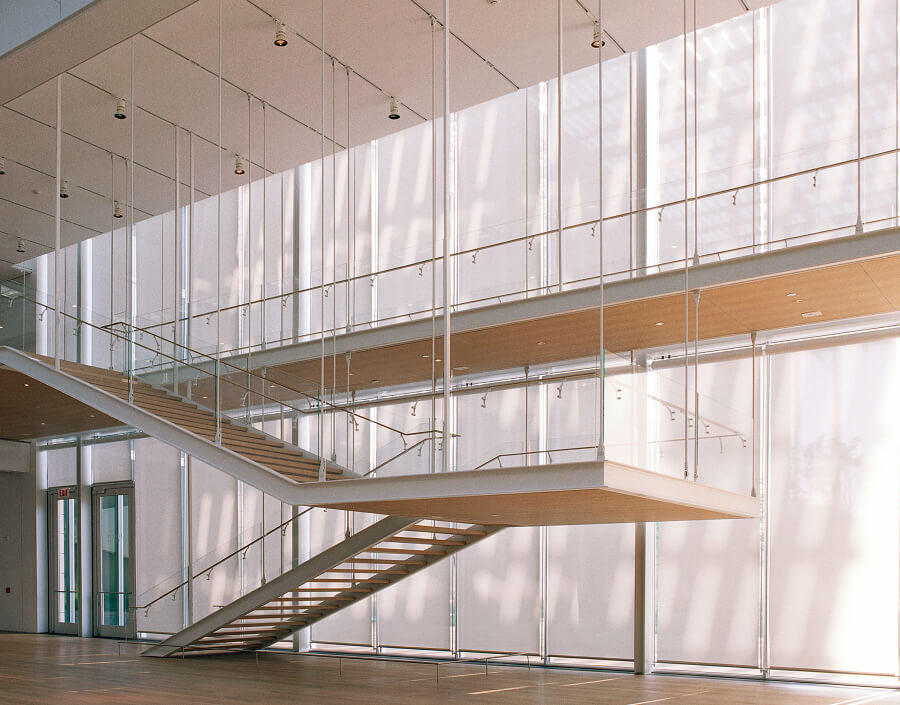 Fabrics
Fabrics are selected based on a variety of properties:
Material: Anything that can be weaved into a sheet can be used in a roller shade application.  The following properties can appeal to certain values: sustainability, recyclability, durability, stain-resistance, colour-fastness, low emissions, pattern, colour, opacity, acoustic absorption, and reflectivity.
Openness factor: The tightness of a fabric's weave in preventing light from passing through it.  This factor is chosen based on the desire for privacy, visibility, and natural lighting.
Width: This determines the maximum physical roller shade width or fabric drop depending on a window's dimensions.
Thickness: This determines the maximum amount of fabric that can be rolled onto a roll tube to fit within the space that the rolled up shade will be installed into.
Weight: This determines how much weight needs to be accounted for when mounting and motorizing a roller shade.
Roll Tubes
Fabrics are attached and rolled onto aluminum tubes with one of the following diameters: 45mm / 60mm / 80mm.  
Headboxes or Closure Panels for Recessed Pockets
85mm / 100mm / 120mm aluminum headboxes are available to cover the roller shade drum and components if mounted to the head of the window frame.  60mm / 80mm aluminum plates cut to length are available to close off a recessed pocket to hide it in the ceiling.  White and black are standard colours but custom colours can be requested to match paint finishes. 
Hembars
A D-shape, oval, round, or large rectangular aluminum bar are available to attach to the end of the fabric to weigh down the fabric for alignment and movement.  Black / clear anodized / white, and bronze are the standard colours with custom colours available upon request.
Cable Guides
1.2mm stainless steel tensioning cables are also available to secure roller shades with long fabric drops.
Motors
Motor selection is limited by the fabric width, drop, and weight.  Once those properties have been determined, the speed and operational quietness of a motor may remain available to select from.